Do and Discuss
For each of these groups below, please call or email the office at 760-737-0393 or chaliceuuc@gmail.com, for the the most accurate meeting times and days.
Chalice Readers
Time: 7:00 p.m. on the 4th Friday of each month.
Location: at Chalice in the common room
We meet to discuss timely 21st century fiction and nonfiction books. We examine the modern written word following the UU principle of free and responsible search for truth and meaning. Attendance has been averaging about 10 people and includes singles as well as couples. Feel free to join us any or all months. Some participants join us specifically on either fiction or nonfiction dates. Newcomers welcomed any time whether you have read the book or not. If you have a favorite book that you are passionate about then contact us and we will read it together.
Contact:
John Drewe: jadrewe@att.net, 760-930-9881
Schedule:
May 26: Soul of an Octopus by Sy Montgomery
June 23: Outline by Rachel Cusk
July 28: Lab Girl by Hope Jahren
August 25: The Family Fang by Kevin Wilson
Fiber Arts and Crafts Group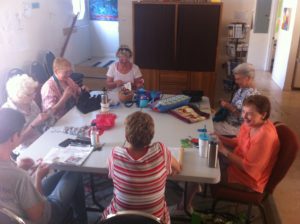 The Chalice Fiber Arts and Crafts Group meets monthly, on the 3rd Wednesday, from 1pm to 3pm in the common room at Chalice. We meet for friendship and mutual enjoyment of our work, primarily needlecrafts such as knitting, crocheting, sewing, embroidery, beading, or appliqué, but anyone with a craft that doesn't take a lot of space or cleanup is welcome. And if it does take a lot of space or cleanup, bring it anyway and we'll figure it out!
Contact:
Bonnie Packert bp931@hyperlogic.com
Women's Book Club
The Chalice Women's Book Group meets the 3rd Tuesday of every month at 7:15 at Chalice in the Common Room. We select books as a group and publish our annual reading list for all interested parties. Each month one member volunteers to lead our discussion but since we have many readers no one is required to assume this task. We always enjoy discussing the book and other topics, ideas, and experiences at our meetings. We invite all women readers to join us for a fun and stimulating evening.
Contact:
Dani Comer: danicomer13@gmail.com
Schedule:
May 16: Ordinary Grace by William Kent Krueger
June 20: The Boys in the Boat by Daniel James Brown
July 18: The Trespasser by Tana French
August 15: The Invention of Wings by Sue Monk Kidd
September 19: The Girl on the Train by Paula Hawkins
October 17: The Last Painting of Sara de Vos: A Novel by Dominic Smith
November 21: Small Great Things by Jodi Picoult
December 19: The Rosie Project by Graeme Simsion
January 16, 2018: Choosing books for 2018
February 20, 2018: News of the WorldPaulette Jiles